Outreach
"What does the Lord require of you but to do justice, and to love kindness, and to walk humbly with your God."

Micah 6:8
Dennis Union Church is committed to serving God by serving others and being the hands and feet of Christ in our community. We help alleviate suffering and share the good news of God's love through both our actions and our financial support.
We find ways to make a difference and foster a congregation of compassionate Christians.
Our Social Concerns and Missions Committees are involved in a variety of projects providing volunteer opportunities to live out our faith in the world. We hope you will find the right opportunity for you!
Missions
The Missions Committee researches and identifies opportunities for directing DUC's contributions to Christian outreach efforts throughout the world by informing members of the needs of local, national and worldwide areas of mission and advises other groups in distributing charitable donations.
Dennis Union Church supports Our Church's Wider Mission (OCWM), which benefits the full range of the United Church of Christ missions nationally and around the globe.
Social Concerns
Social Concerns considers issues of Christian concern in our society, and how the members of Dennis Union Church may respond and support efforts to address issues, particularly for the Cape Cod community.
The committee coordinates DUC's outreach efforts and encourages members and friends to learn about local groups and participate in as many ways as possible.
Outreach Efforts
Donations: Each month an organization is selected and an item or group of items that it chooses as a priority are solicited and collected as a Targeted Donation. Previous donations include backpacks and school supplies, paper products, and diapers and baby wipes.
Donations of food for the Hands of Hope food pantry are always welcomed.
Homeless Ministries: Social Concerns works with Cape Cod agencies to address needs of the homeless and those who are transitioning to stable housing. Ongoing activities include:
Faith Family Kitchen — Currently, Dennis Union Church helps with serving the 1st Friday of every month. The FFK is a consortium of churches which picked up the Monday-Wednesday-Friday dinners formerly provided by Calvary Baptist Church until fire destroyed their church in March 2012. Since April 2012, the consortium has helped with the provision of meals to Faith Assembly of God Church, 154 Bearse's Way, Hyannis.
On-Site Salvation Army lunches — We provide food for lunch on the 4th Monday of each month and are always glad to have desserts donated for this mission.
Colombia Project
In 2011, a group of 14 Dennis Union Church members and friends traveled to Cartagena, Colombia to repair flood damaged homes in the impoverished village of Ararca on Baru Island. This task was accomplished, but the group left feeling like there was so much more to do. About 300 children attended the village school that had absolutely no supplies, books, or enthusiasm. Only children who could buy a uniform could attend which left many children to wander the streets. Discipline was lacking as well as respect for education.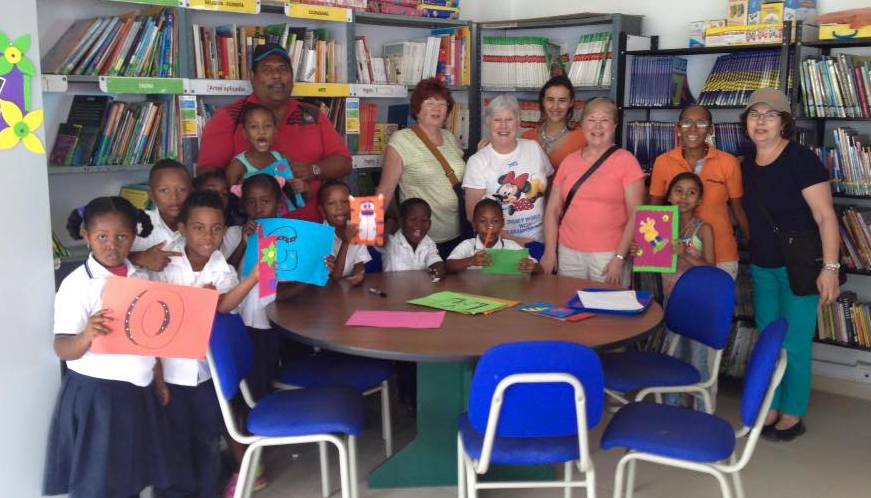 Several members of the Colombia team took up this call and began a partnership with a Cartagena based non-profit called "Arriba las Manos." It was decided that sending books and money for uniforms was step one. Since that first step, the money raised by members of Dennis Union Church has provided books, a library complete with its own librarian, educational toys and games, classroom and art supplies, a sewing machine and fabric for a village woman to sew uniforms at a low cost and money to make sure all the children get at least one good meal a day. Because the children are finding support and success in school, they want to stay there!
We have since provided money for costumes for a newly created dance team, equipment for soccer teams, musical instruments, and looms for a cottage industry weaving venture. In the past eight years the children of Ararca have learned respect for education. They are learning to read (about 1/2 the Island was illiterate), and they are staying at school and off the streets. The families of Ararca know Dennis Union Church and its generosity.
Due to the coronavirus pandemic, plans for our next visit are on hold, but the Colombia team continues to work to provide assistance as we can. Learn more about the project by visiting this link:
Arriba las Manos Fundraising for 2021-Soroush Roya.