Pastor's Greeting
Welcome to the Dennis Union Church, an Open and Affirming congregation of the United Church of Christ.
We are so glad that you are visiting our website and would love to see you and get to know you at church on Sunday morning.
In the midst of all the hecticness of life, it is wonderful to be able to sit with friends and other sojourners of faith and share in fellowship and worship.
This is a community that loves to laugh together, work together, pray and sing together.
It is also a community that cares deeply about the world around us and the needs that are so prevalent.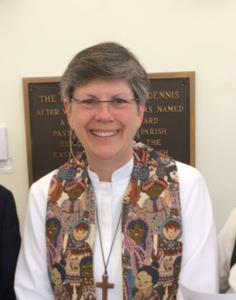 Our mission and message about the love and grace of God is written on our hearts and worked out through our actions.
We invite you to join us in whatever way you are able and know that your presence makes a difference in our lives and the life of our community.
If you have any questions about Dennis Union Church or wish to simply chat with me, feel free to call the church office or email me at seniorpastor@duchurch.org.
May the grace and peace of God be with you always.
Nancy
The Rev. Nancy S. McHugh